Back to news
Growing demand in temporary healthcare accommodation solutions
Keith Austin
Published 13 August 2013
The number of healthcare providers seeking temporary accommodation solutions is on the increase. Keith Austin, CEO at EMS Healthcare considers how medical trailers are filling this gap and helping to meet demand while raising standards of care.
We've seen real growth in the market of healthcare providers looking for temporary ward and clinic solutions – over the last year alone we've had a 24% increase in enquiries from NHS trusts requiring temporary accommodation.
So it wasn't without interest that I read the article in the latest Healthcare Design & Management about the growing market of off-site and modular build, which cited that what was once viewed as an interim solution to construction needs is now wholly embraced by the healthcare sector.
We've also watched and been part of this market, which has developed tremendously over recent years. Medical trailers provide state-of-the-art facilities meeting NHS standards and have become a central part of first class healthcare delivery today.
The requirement isn't just isolated to helping ease pressure on busy hospital wards or providing a clinical environment so hospital services can continue through building works.
The fact of simply 'being mobile' provides many additional benefits.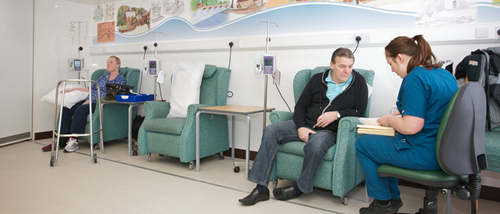 Having the capability to drive on and off site makes the process more efficient and less disruptive – design and build is off-site so when the medical unit arrives there is minimal work required before it can start receiving patients. Being mobile also means that a facility can be easily moved and the solution is flexible so it can be scaled up or down as required.
The flexibility of a mobile proposition is providing increasing opportunities to healthcare providers, and having a facility to deliver care closer to people's homes is a growing requirement; one which has most recently been embraced by Clatterbridge Cancer Centre.
The Centre has been delivering essential chemotherapy treatment in the community through a mobile unit since the start of the year. It is now opening its doors to local schools and the facility is being used as a tool to educate pupils about some of the most common types of cancer.
I'm excited to see healthcare move in this direction and anticipate that there is much more to come.