Back to news
Leicester Trust brings Cutting-Edge Solution to Hospital Estate
Jo Quarterman
Published 21 October 2018
Clinical capacity
The University Hospitals of Leicester NHS Trust has contracted a ground-breaking new mobile decontamination unit to the hospital estate, anticipated to create significant time and cost efficiencies across its endoscopy departments.
Collaborating with leading mobile medical unit provider, EMS Healthcare, the Quest+ Decontamination unit will be stationed at Leicester General Hospital for 12 months, alleviating pressure from the trust whilst it undergoes centralisation of decontamination departments across the trust.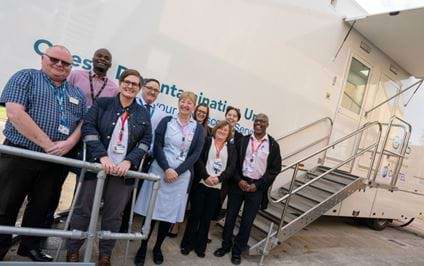 The introduction of the single trailer solution will allow the trust to continue endoscope reprocessing services with minimal disruption to its departments or patients, removing the need to use external decontamination services. Features of the unit include four RapidAER™ Endoscope Reprocessors, a double endoscopy grade height adjustable sink, integral RO plant, a track and trace system and clean and dirty areas enabling a one-way flow for scopes.
Claire Jones-Manning, Decontamination Lead at the University Hospitals of Leicester NHS Trust, commented: "When we made the decision to centralise our decontamination departments we were faced with a period of sustained disruption across the trust. Working with EMS Healthcare we've been able to avoid this, finding a solution that will ensure the smooth delivery of services for our patients.
"Crucially, EMS Healthcare's support has allowed us to take a proactive approach to tackling capacity challenges – a real benefit to the overall efficiency of our trust."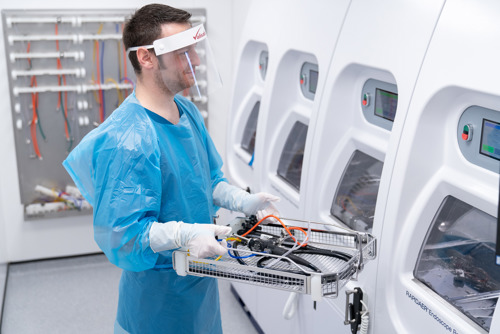 Jo Quarterman, Account Manager at EMS Healthcare, added "To be able to follow up the deployment of our first mobile endoscopy decontamination unit so quickly is a huge show of confidence in this solution. When developing the Quest+ Decontamination unit, we worked closely with leading healthcare providers and market experts to create a solution that could address capacity challenges just like this, so it is especially encouraging now to see the unit having an impact on the ground."
EMS Healthcare has officially partnered with reprocessing equipment provider, Cantel (UK) Ltd, and RO plant provider, Veolia Water Technologies, on the Quest+ Decontamination unit. Collaborating in this way has enabled EMS Healthcare to provide trusts with a one-stop solution for all decontamination needs.
Nic Barnes, Sales Director at Cantel, added: "When we put this partnership with EMS Healthcare and Veolia in place, we aimed to be able to support hospitals in the delivery of uncompromised care. This has now been realised and is resulting in real cost and time efficiencies for hospitals embracing the solution."
EMS Healthcare has launched a fleet of Quest+ Decontamination units in response to market demand. News of the unit's imminent arrival at Leicester General follows its successful deployment at Pinderfields Hospital, Wakefield. The unit continues to support services at the Mid Yorkshire Hospitals NHS Trust whilst the hospital undergoes vital refurbishment.
Take a tour of the Quest+ Decontamination Unit here.