Back to news
Mobile clinics ease the burden on the NHS & help to tackle health inequalities
Ever since our inception, EMS Healthcare has been proud to support the NHS and private healthcare providers. The solutions we provide play a crucial role in the delivery of mobile health services when systems are facing stresses such as refurbishment or capacity restrictions.
Jo Quarterman
Published 05 June 2023
Clinical capacity
It is clear, in a post-COVID world, that the key issues facing the NHS remain broadly the same: pressure on emergency departments, patient waiting times and the urgent need to tackle health inequalities across our most deprived communities.
The latest NHS performance data makes stark reading. It shows the waiting list for NHS consultant-led hospital treatment has grown again to a record high of more than 7.3 million by the end of March 2023. The target to eliminate routine elective waits of over 78 weeks by April 2023 has also been missed despite the huge efforts of NHS staff to reduce these waits.
Flow of patients continues to present a significant challenge, with the ongoing difficulties of getting people out of hospital with a care package or safe place to go. In short, we have the wrong patients in the wrong place at the wrong time – we believe we can help our partners to ensure the right patients are in the right place at the right time.
#ThisVanCan
This month, EMS Healthcare was delighted to announce a new partnership with Greater Manchester Cancer Alliance to deliver a mobile health clinic in support of prostate cancer awareness.  It's critical that this campaign reaches into the heart of communities and a mobile clinic provides the ideal solution.
The six-month programme aims to find men at risk of prostate cancer, so that they can be diagnosed earlier to ultimately save lives. The ThisVanCan tour is specifically encouraging black men aged over 45 to come forward, as they are more at risk of developing prostate cancer than other men.  
The use of a mobile clinic drew this endorsement from Mr Sotonye Tolofari, Clinical Director for Urological Cancers at Greater Manchester Cancer Alliance: "We're talking about prostate cancer here and we know from speaking to men that some may have reservations about going to see their doctors or they're a bit anxious about going to hospital."
"In this situation, we're taking the message directly into communities, so a mobile unit is invaluable. We're really delighted with the way the vehicle looks. It's big, it's spacious and a really safe clinical space for us to use."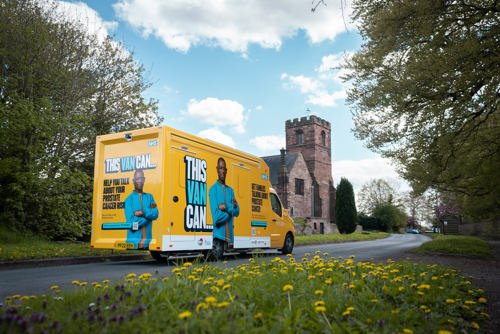 ThisVanCan is also open to all men over the age of 45, who have a family history of prostate, breast, or ovarian cancer. From an EMS Healthcare perspective, it's a privilege to be involved in supporting this hugely important campaign. It demonstrates that a mobile health clinic is a great way to get the message out to hard-to-reach communities and ensures that patients have easy access to the checks they need.
In our view, there's no doubting the benefits of moving more diagnostic and outpatient clinics into communities and away from acute settings.  This allows hospitals to focus on where they excel – complex procedures and cases.
Care closer to home
As part of a pioneering initiative, we worked in partnership with Frimley Park Hospital in Surrey, to design a mobile macular clinic, offering vision-preserving treatment closer to patients' homes. The clinic provided a one-stop assessment and treatment service in convenient community locations including supermarket car parks for up to 50 patients each day. It also reduced the travel burden for patients travelling long distances for treatment.
Analysis of the Frimley clinic statistics is revealing:
Patient waiting time in the clinic was reduced by 59% on the mobile unit
41% of patients saved over 30 minutes' travel time, with 22% saving more than an hour
90% of people found the mobile unit more convenient
95% rated their experience as excellent
Professor Geeta Menon, Consultant Ophthalmic Surgeon at Frimley Park Hospital, offered this summary: "The ophthalmology team here have always been trailblazers in providing innovative care for patients with eye disease. The mobile unit marks another step in our exciting journey to providing exceptional care.  I am proud to be part of a team that has helped make our dream service come true."
We worked, too, with Respiratory Innovation Wales to deliver a mobile diagnostic centre enabling Welsh respiratory patients to access vital diagnostic and screening examinations, due to a post-COVID backlog. The aim was to offer an increase in convenience for patients across the country and, ultimately, an assessment on whether a similar model could be used as a foundation for other diagnostic provision.
This initiative was essential because one in 12 people in Wales have a respiratory illness and respiratory disease is now the country's leading cause of ill health (36%). Wales also has the highest prevalence of asthma in Europe.
Dr Philip Webb, Chief Executive of Respiratory Innovation Wales, said: "Mobile units give us the ability to interact with our patient population within areas that are convenient for them and, particularly post-pandemic, it removes the anxiety of going to a hospital, with mobile units encouraging patients to be more comfortable and assured in accessing care closer to home and outside a hospital environment."
Results from the use of the unit are extremely positive, having had a significant impact on acute care and emergency admissions.  A detailed report is now being finalised for submission to the Welsh Government and we look forward to receiving a copy in the coming weeks.
Demand for endoscopy
As part of the elective recovery plan, the NHS is increasing diagnostic testing services and planned procedures. Endoscopy activity is being upscaled across the country to meet growing demands for additional capacity. EMS Healthcare has the largest fleet of mobile endoscopy suites in the UK, and we have been working with Cantel UK (now part of Steris) to offer mobile solutions for the last four years.
From Worcestershire Acute Hospitals NHS Trust to Northern Health and Social Care Trust, we're proud to have supported Trusts with increasing endoscopy appointments and decontamination reprocessing, by offering solutions which are flexible, compliant, and agile.
Dr Carl Ellson, Medical Director at the NHS Herefordshire and Worcestershire Integrated Care Board, said: "Our priority is to address the waiting lists that have grown during the pandemic and to use the additional capacity at the CDCs to ensure patients can get the investigations they require in a timely manner and meet growing demand for diagnostic tests in the future."
Partnerships drive success
Closer to home, our recent support for Cheshire and Wirral Partnership NHS Foundation Trust has proved hugely successful in helping to address health inequalities in a region with significant areas of deprivation.  A fleet of three Living Well buses provided on-the-spot vaccinations, physical health checks, wellbeing, and mental health support.   
Within eight months, the Living Well Bus delivered 11,000 vaccinations, 8,000 health checks, and 380 clinics at community sites including homeless shelters, mental health crisis cafes and learning disability day centres.
The huge impact of the Living Well buses drew deserved recognition at the Health Service Journal Partnership Awards in March, achieving a high commendation in the category of 'Best Estates Optimisation Project.'
Congratulations to all the teams involved in such a ground-breaking project – proof, if it was needed, that strong partnerships can deliver exceptional outcomes for patients.