Back to news
RCO Annual Congress: a glimpse into the life of an ophthalmologist
Jo Quarterman
Published 17 July 2017
Clinical capacity
In May, we exhibited at the Royal College of Ophthalmologists Annual Congress to launch the latest addition to our fleet of mobile medical units, Quest+. Positioned with the unit outside Liverpool Arena and Conference Centre and with a stand inside the congress, we were in prime position to engage with ophthalmology consultants from across the country as they attended the event.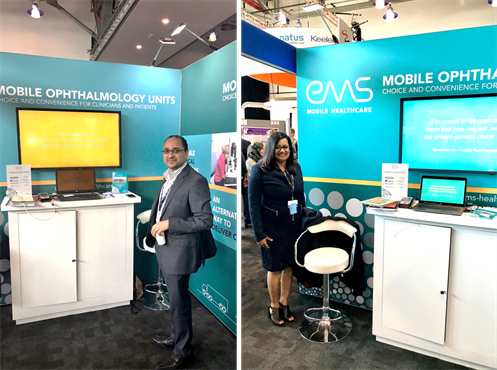 Partnering with a number of ophthalmology equipment providers that were also exhibiting at the congress, we were able to furnish the unit with the highest quality fixtures. Medical devices, including an OCT scanner, LCD visual acuity monitor and clean room couch, were all kindly supplied by Heidelberg Engineering, TopCon Medical and Carleton Optical. This support enabled visitors to experience the unit as a truly self-contained assessment and treatment solution that replicates the clinical environment of an in-hospital eye department.
Whilst Quest+ generated masses of interest from delegates, exhibitors and our clients from Frimley Park Hospital and Central Manchester University Hospital, we took the opportunity to gain insight into how ophthalmologists are coping with the pressures and demands that come from an aging population suffering with macular disease.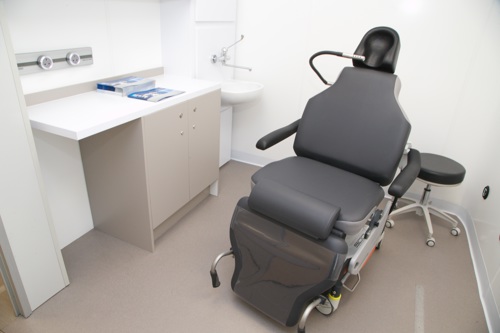 Almost three quarters of those we asked claimed the greatest problem when dealing with patient lists is capacity, something that directly connects to elongated patient appointments – 56% of which are lasting over one hour (including waiting times). As a result of the increased demand, partnered with capacity pressures and extended appointment times, 70 per cent of ophthalmologists are running additional clinics during evenings and/or weekends.
What shines through these difficulties is the dedication and determination consultants have for providing patients with excellent care, despite the pressures of increased demand and capacity limits. As the UK's leading provider of mobile ophthalmology units, we aim to build on this research and use our findings to continue designing and creating new units that will provide an innovative solution to these unavoidable issues.