Back to news
Strengthening the roll out of community diagnostic centres with mobile healthcare units 
Jo Quarterman
Published 10 August 2021
Clinical capacity
The upcoming rollout of community diagnostic centres (CDCs) is set to revolutionise diagnostic provision in the NHS – providing a much-needed boost to capacity and an opportunity to transform service delivery to take a more patient-centric approach.   
With the aim of providing services in the heart of local communities, the new service model will deliver quicker and easier access to screening and greater convenience to patients. 
The introduction of CDCs, formerly known as community diagnostic hubs, is a key recommendation from Professor Sir Mike Richards's October 2020 independent review Diagnostics: Recovery and Renewal. 
Over the next five years, CDCs will be used to both reduce the post-Covid backlog and meet the ever-increasing demand for elective diagnostic services. 
EMS Healthcare commercial manager Jo Quarterman said: "EMS Healthcare has vast experience of providing mobile units in the heart of local communities, so we're well informed about the benefits of bringing these facilities closer to patients' homes. 
"First, there is a direct impact on patient attendance. Data from both our Manchester and Frimley mobile macular units revealed that 90% of patients found it more convenient to attend the mobile unit – and 41% saved over 30 minutes' travel time.  
"Combined, these benefits enable a more efficient throughput of patients and allow the NHS to respond more dynamically to the community's needs." 
The power of mobile units in community diagnostic centres
Mobile units are an effective response to challenges arising during the planning and development of new buildings. They are also ideal solutions to bolster capacity at pre-existing facilities.  
Now, through the 'Hub and Spoke' model (which sees CDC 'spokes' provide further capacity through satellite locations, mobile units or pop-ups) their impact looks to carry even greater potential. The benefits of this approach include: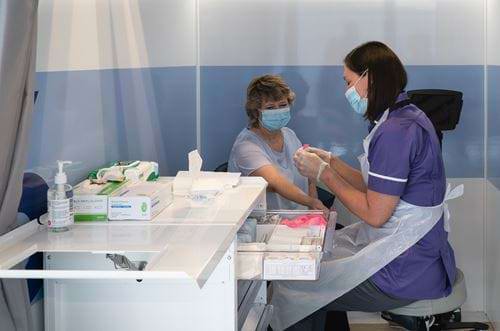 - Inherent agility and responsiveness. By docking different mobile units at different times, diagnostic solutions including cancer screening, endoscopy, CT, and mammography can all be deployed exactly when and where they are needed most.  
 - Freeing capacity in the primary care setting. By diverting elective diagnostic procedures away from under-pressure hospital settings, mobile units ease the strain and allow urgent and acute services to operate at maximum capacity. 
 - Maximising infection control. When patients are kept away from a primary healthcare setting such as a busy hospital, they enjoy a safer pathway and a reduced likelihood of either spreading or catching undiagnosed infections. 
 
Supporting the widespread deployment of community diagnostic centres
Several of the units supplied by EMS Healthcare are ideally suited to community diagnostic centres. 
The self-contained Trilogy+ endoscopy suite can be deployed at hospitals or in community settings, improving the availability and accessibility of elective endoscopy services. Our 3.5T self-drive Outreach vehicles provide an ideal solution for simpler tests such as phlebotomy, spirometry, and eye tests. And Liberty units have been trusted as fast and convenient community-based clinics across the UK for more than 10 years. 
As capacity expansion becomes a critical need over the coming months and years, NHS trusts must coordinate new facilities, more diagnostic equipment, and the growth of the diagnostic workforce.  
Staffing is a challenge across all healthcare settings, with the Richards report urging the training of additional highly skilled staff to "start as soon as possible".  
But if that can be overcome, and the health service can accelerate collective system-level approaches while prioritising innovation at a local level, CDCs can play a vital role in maximising public access to care and improving population health. We look forward to playing our part!  
To find out more about how EMS Healthcare is ready to help NHS trusts with the successful planning, roll out and ongoing management of community diagnostic hubs, contact us today.