Back to news
Mobile health services and the key role they played in the UK's Covid-19 response
Jo Quarterman
Published 09 September 2021
Clinical capacity
In 2020, the UK's healthcare system – like that of healthcare systems all over the world – faced unprecedented pressures. EMS Healthcare commercial manager Jo Quarterman reflects on our role in the last 12 months. 
Since our earliest days in 2013, EMS Healthcare has been proud to support the NHS and private healthcare providers. The solutions we provide play a crucial role in the delivery of mobile health services when systems are facing stresses such as refurbishment or capacity restrictions. But in 2020, Covid-19 heightened those stresses like never before. 
Across procedures, diagnostics and treatments, we have fitted, supplied and operated 58 mobile facilities over the last 12 months. When rapid solutions were needed, our vehicles helped the UK's healthcare system in five key areas: 
Test and Trace

Clinical trials

Laboratory capacity

Protecting vulnerable patients

Vaccination rollout
Our contribution to the healthcare system throughout the pandemic has been one of our proudest moments – no other mobile unit supplier has had the same impact in supporting the NHS in its battle against the virus.
Mobile medical units expanded Covid-19 testing capacity
In the spring of 2020, demand for Covid-19 testing capacity accelerated at extraordinary speed. So speed was equally important in our response. We were conscious that people's health was reliant on the ability to access timely and accurate testing, so we diverted our focus to supporting the delivery of the 'Test and Trace' system. 

Utilising resources from across The EMS Group, we were able to supply 28 mobile units and 10 modular structures. Thanks to our facilities, testing capacity in the UK expanded by up to 120,000 tests per week. 
It is testament to an extraordinary team that the first vehicles were produced and deployed within just six days of being commissioned. We are incredibly proud of how everyone in the team worked quickly, tirelessly and with industry-leading expertise to both deliver the units and integrate with other suppliers. 
We also provided Covid-19 testing units to Randox, Source Bioscience and London Medical Laboratory, three leading healthcare diagnostics companies. By developing a solution that facilitated collection, testing, sampling and processing under one roof – which could quickly be relocated as necessary – we added critical flexibility into the UK's healthcare provision. 
Mobile health services supported clinical trials
Testing, however, was far from the only area that needed quick, effective solutions. The NHS was under significant strain. GP surgeries and hospitals were operating at full capacity. The burden on the NHS' infrastructure was enormous. 
By simultaneously collaborating with NHS trusts and private providers, we developed new vehicle configurations and environments. In turn, this meant more mobile clinical trial units and more mobile laboratory units in our fleet.  
We worked with Guy's and St Thomas' NHS Foundation Trust to develop a clinical trial unit for Covid-19 vaccine studies. This was an ideal solution for a crowded hospital estate, providing a state-of-the-art facility in just three weeks and offering vital support to a clinical trial involving almost 8,000 people. 
That trial assisted in the development of the Oxford-AstraZeneca Covid-19 vaccine, and we feel extremely privileged to have played a small part in the trial's success. 
Elsewhere, we developed the BSL2 unit, our first NHS mobile laboratory, for the Royal Devon and Exeter NHS Trust. The unit conducted Covid-19 LAMP testing on frontline NHS staff, screening asymptomatic carriers and keeping key-workers and patients safe. 
Smart solutions protected the most vulnerable
Beyond our hands-on work in the delivery of testing facilities, EMS Healthcare also supported the ongoing provision of other essential services. Our Liberty+ Ophthalmology Unit at Ipswich Hospital (part of East Suffolk and North Essex NHS Foundation Trust) kept some of the most vulnerable patients out of the hospital and into a safe and self-contained dedicated mobile unit. That model – of using mobile units to deliver care away from the main hospital site – was one other trusts became keen to replicate.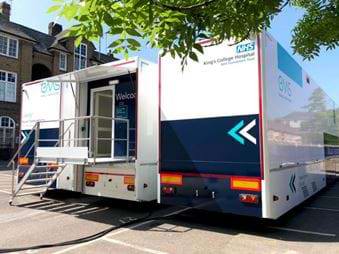 Our mobile units were also used to alleviate waiting list pressures for elective procedures. Our Covid-secure endoscopy units allowed several trusts to continue their service away from their main hospital settings. At the same time, our Quest+ fleet of mobile endoscope decontamination units was deployed across several trusts, including Barts Health Trust, North Cumbria Integrated Care NHSFT Trust and Manchester University NHS Foundation Trust. This safeguarded critical cancer screening services throughout the pandemic. 
Finally, our mobile NHS vaccination units supported the rollout of the Covid-19 vaccine.  Creating additional vaccination sites in convenient community locations and hard-to-reach areas, and supporting with surge vaccination following a spike in new variants.
What next for EMS Healthcare?
Our team is dedicated to pioneering new healthcare solutions. Several exciting projects are in the pipeline, including the launch of Outreach, our first self-drive vehicle that will provide practical support for the rollout of Community Diagnostic Hubs. And our work with GRAIL, Inc., supporting the NHS pilot study of Galleri™, a multi-cancer early detection blood test that could transform cancer outcomes. We look forward to sharing more updates soon.